Natural dyer for designers and textile designer for Calyx Intimates chats to me about her life in New York and the importance of sustainability in her work.
Hi Cara, and welcome to Om Pom Happy.  I'm such a fan of your work which is just so beautiful.  How did your interest in textiles begin?
Hi Cand, thank you!  I first became interested in textiles when I began my studies for college in London.  I was initially interested in jewellery design and creating 3-dimensional forms, when a professor suggested I work in textiles.  I've been interested in working in fashion since I was very young , so studying textiles and fibre made the most sense.
And how did this lead on to hand-dyeing, especially the use of natural dyes?
After my 3rd year of studies, I was struggling with how I would enter the workforce in a sustainable way.  I took a workshop in natural dyes and I was instantly hooked.  The scope and range of colours you can achieve from just one dye stuff is remarkable, and the alchemy of the process became an addiction.
You always use fabrics that are ethically and sustainably sourced for your Calyx Intimates range…
Yes, I order from wholesale providers that I know follow fairtrade practices and silk dealers that do the same.
Living in New York might seem to some to be at odds with someone who is so passionate about nature…
I think that's what I love most about my work and nature is that I live in New York.  I think it's irresponsible and silly to deny the fact that most of the world's population lives in urban environments.  It is one of my missions in my work and practice to merge nature with the urban environment.  I work with the waste of restaurants and florists in New York, and having that immediate access to these businesses helps sustain my practice.  Instead of the waste going into landfill, I try to intercept them and transform them into something beautiful.
You trained in London at the Chelsea College of Art and Design.  Is that because it's such a prestigious school, or part of a wanderlust plan?
Both for sure!  Chelsea is very well respected for their textile programme,as well as having amazing facilities and studio space for their Fine Art majors.  Your studies are very self-motivated there so I was given total freedom to experiment and really find myself as a designer.
What did you do directly leaving Chelsea?
I moved home and began my career as a dyer.  I rented basement space from my friend's vintage store and just began dyeing away.  Eventually more designers and artists began hearing about me through word of mouth and it snowballed to where I am today.
Above: shibori dyed fabric for fashion designer Alice Waese
Above: hand-dyed fabric for Rare Weaves tent
Tell us about your studio?
In my mind's eye it's a magical place full of wonderful potions!  It's in Gowanus Brooklyn and a very creative hub for makers, full of large lofty industrial studios.  My studio is a ground floor dye house with a drain in the floor and 16ft ceiling with white walls.  My sacred space.  There is a constant smell of palo santo or eucalyptus wafting around.  You enter through a small hallway of dried flowers and then into a large rectangle of books, potions, pots and inspirational images.  My favourite part is the stained floor piled with additive dye drips.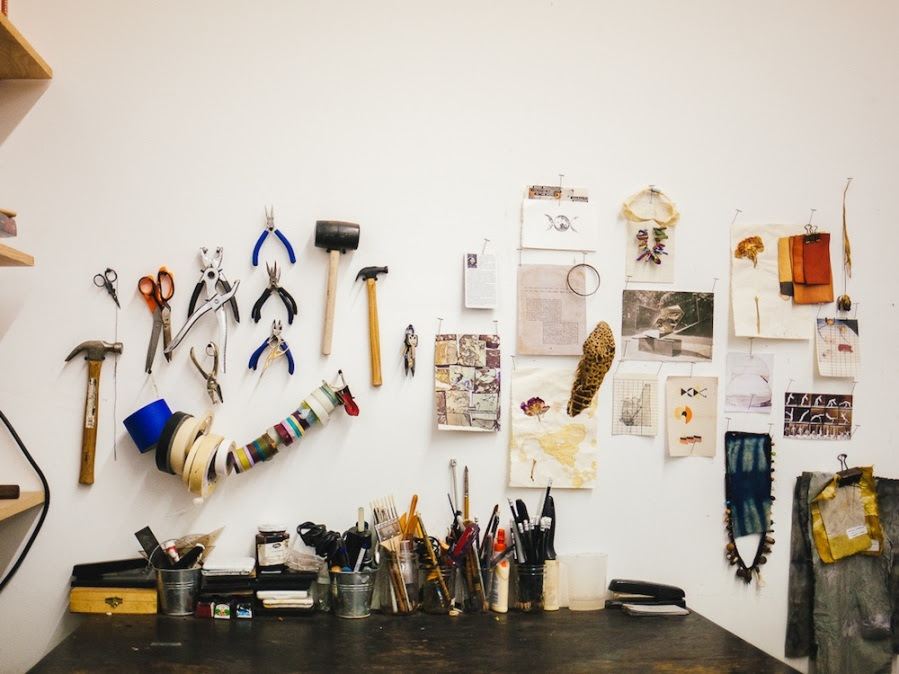 From initially learning your craft from a workshop, you now run workshops yourself, including one recent one in Paris as part of Paris Fashion Week…
Yes, it's very important to me to be able to pass this knowledge on and inspire people and future generations to seek out natural colour.  For the future of sustainability in fashion I think it is of the utmost importance to create awareness of this art form.
Absolutely!
Cara Marie, thank you so much!  It's been so wonderful getting a glimpse into your magical world.  And it's always such a pleasure to meet someone who cares so much about the environment in their work.  Perhaps you can leave us all with one of your favourite tunes…
Thanks, Cand.  Lovely to speak with you too!  I'll leave you with Florence and the Machine, Mother.
Words: CAROLINE JUSKUS and CARA-MARIE PIAZZA
Photos: ARDEN WRAY and CARA-MARIE PIAZZA and ELUXE MAGAZINE